Our guesthouse is on the upper floor of Eldstó Art Café. It consists of 5 clean and comfortable rooms, 2 shared bathrooms with showers and a shared dining room with a kitchenette (no stove, however).
The shared dining room/kitchenette can be observed on the photos below.  You can find a refrigerator, a microwave, an electric kettle, a coffee maker, a kitchen sink and all manner of kitchenware and utensils at your disposal.
A complimentary self service breakfast is available to all guests in the dining room. Enjoy our homemade bread as well as some crispbreads, jams, cheese, cereals, fruits, yoghurts and more!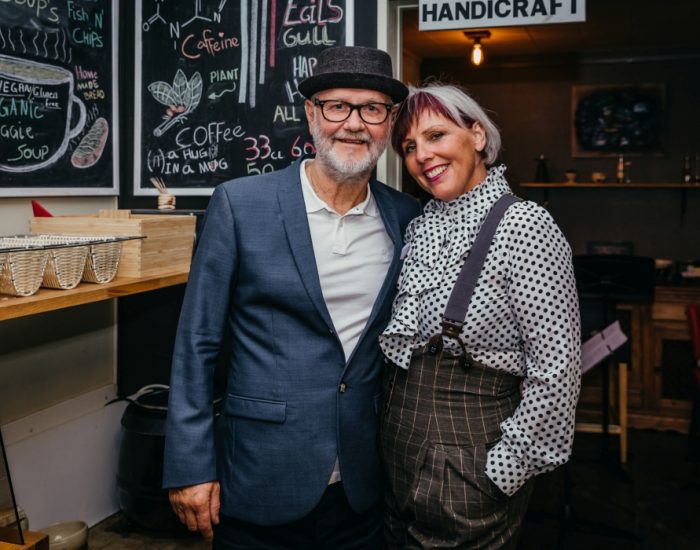 Thor Sveinsson is a potter and ceramic designer. He studied pottery in 1971 – '75 under the tutelage of Gerhard Schwarz and Paul Martin. For years he prototyped for Glit and was a tutor of the craft at Reykjavik School of Arts.
G.Helga is a singer, painter and ceramic artist. She studied at The Reykjavik Academy of Vocal Arts, took visual arts classes at F.B. and had lessons with painter Gunnar Geir Kristjánsson.
Their handmade ceramics are glazed with Icelandic-derived materials, such as volcanic substances from Mount Hekla, as well as clay from Búðardalur. 
This video shows Thor throwing pottery on the wheel, Helga doing the artwork and the process of creating glazes infused with the volcanic materials of Iceland.
Eldstó began as a pottery/ceramic workshop in a garage, some 20 years ago (1999). It has since grown, becoming all it was meant to be and much more and is now a small family owned and operated restaurant, café, ceramic art gallery and a guesthouse.
The air smells of food and coffee. The music hums in the background, the interior is softly colored and lit. Walls are decked with paintings by G Helga and shelves, showcasing Thor and Helga's handcrafted pottery. The overall theme of ceramic art is everywhere, as was the founders' vision in the beginning. 
In no other restaurant in Iceland can you have your drink in a handmade cup by the very family that runs it. Have a tea brewed in a handmade teapot, or an Icelandic craft beer in an Icelandic craft chalice. Indulge in the traditional dish of Icelandic lamb soup, locally sourced lamb in a locally handmade bowl